How to Convert Excel Files to PDF files?
Ans :
Q.1. How to Register, Buy and Activate the software?
Ans :
Register :

To register the "Batch Excel Files Converter" click on the "Enter Activation Key" Button and fill the Registeration Detail with the Activation Code.

Buy :

You have to Buy "Batch Excel Files Converter" to get Activation Code. You Can Buy it From our Site by Clicking on "Buy Activation Key" button.

Try It :

You can use demo version of "Batch Excel Files Converter" by clicking on "Continue in Demo Version" Button.
Q.2. How to Add word Files in Batch Word Files Converter?
Ans :
Step 1: Add Files (.xls , .xlsx).
Add Files - In this step you can add MS Excel (.xls , .xlsx) files, just click on "Add Files" button to open file dialog box select files you want to add, you can select multiple files. You can also add all files of a selected folder by clicking on "Add Folder" button, it automatically search the selected folder and add all the MS Excel Files.
Q.3. How to select Format?
Ans :
Step 2: Select Format.
It is a compulsory step to follow. Here you can choose any of the following file formats from dropdown List to convert your files into:
Excel Workbook (*.xlsx)
Excel Binary Workbook (*.xlsb)
Excel 97-2003 Workbook (*.xls)
Web Page (*.html)
Excel Template (*.xltx)
Excel Macro-Enable Template (*.xltm)
Excel 97-2003 Template (*.xlt)
XML Spreadsheet 2003 (*.xml)
Text (*.txt)
CSV – Comma delimited (*.csv)
Pdf  (*.pdf)
XPS Document (*.xps)
Q.4. How to Start Conversion?
Ans :
Click on start conversion button to convert added files format in to selected format. You can also set the location of converted file.
Remove Selected: You can remove the selected files from the file list. For that you have to select the file you want to remove and click on option "Remove Selected".
Clear File List: You can remove all files from the file list. For that you need just click on the option "Clear File List". It will alert you before removing all files.
Open Target Folder:"You can open the location of converted files by click on open target folder button.
Add Suffix with Converted File Name:"You can also"add"any suffix with filename before process start on File Folder Options Panel.
Q.5. How to Save File after Conversion?
Ans :
Some Other Settings for CSV and Text file:" You can also convert MS Excel (.xls , .xlsx) files into CSV(*.csv) and TEXT(*.txt) file with some other option like Export Active Sheet , Export First Sheet and Export All Sheet with merge file and separate file.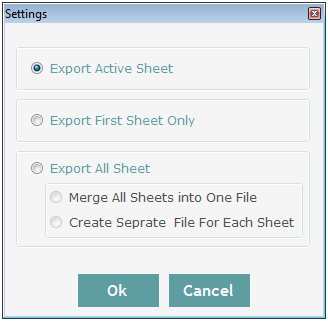 Q.6. How to Deactivate Software to transfer to other PC?
Ans :
Go to Help Menu on left Top.
Step 1 : Deactivate from current PC.
Step 2 : Install the software on new PC and Register it with same Activation Key.