How to extract phone numbers from multiple websites?
Ans :
Q.1. How to Register, Buy and Activate the software?
Ans :
Register: To register the "Internet Phone Number Extractor" click on the "Enter Activation Key" Button and fill the Registeration Detail with the Activation Code.
Buy: You have to Buy "Internet Phone Number Extractor" to get Activation Code. You Can Buy it From our Site by Clicking on "Buy Activation Key" button.
Try It: You can use demo version of "Internet Phone Number Extractor" by clicking on "Continue in Demo Version" Button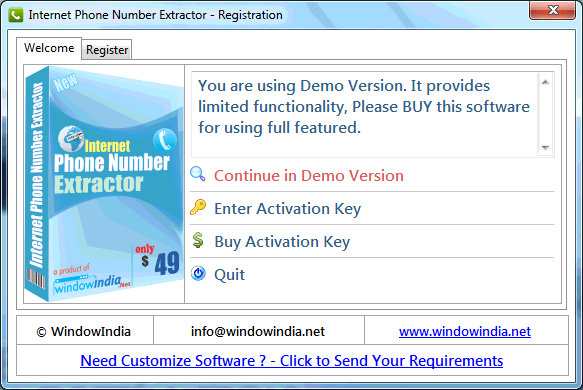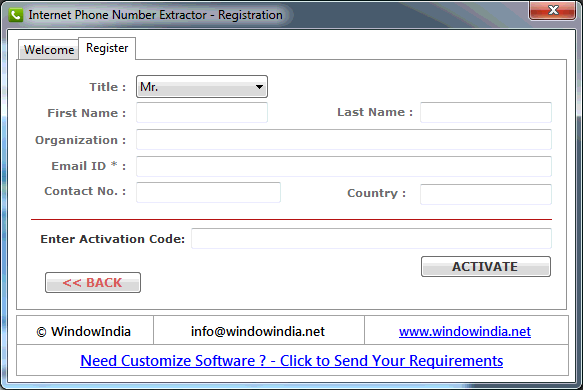 Q.2. How to Extract Phone Number from Internet/WEB through many popular search engines?
Ans :
Search With Keyword:
Phone Number Finder extracts Phone/ Mobile/ FAX Numbers from Internet/WEB through many popular search engines such as (BING, Google, AltaVista, Yahoo, ASPSeek, askcom, gigablast etc.) according to query for the search engines.
Click on the "Extract Phone Numbers from Search engines via Keywords" tab .
write down your Query in the given textBox.
Select One OR MORE search engines from the Search Engines List (if many search engines are not available in the search engines list please click "Settings" Button and update Search engines here).
Now click "Start Search" button.
wait just few minutes, it will give a list of Phone/ Mobile/ Fax numbers.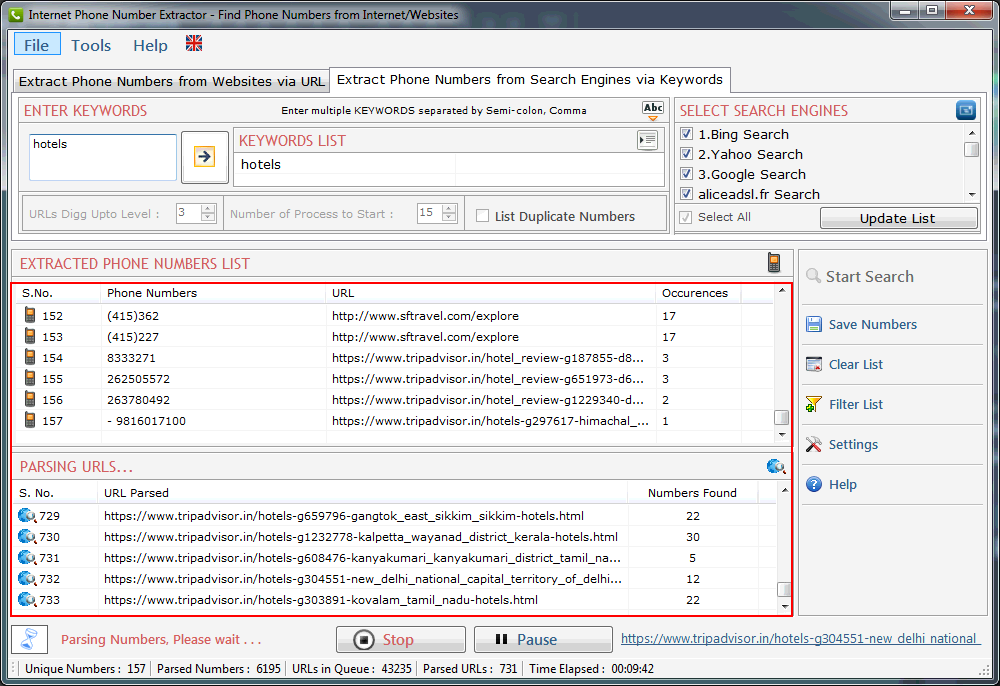 Q.3. How to Extract Phone/Mobile/FAX Number from a list of WEBSITE's URLs?
Ans :
Following steps should be done:
Click on tab "Extract Phone numbers from Websites via URLs".
You can also import URLs list through csv and .txt file. By click on Import URLs button.
Type correct URL or URLs in the textbox or you can import your list or URLs already created.
Start the search by just clicking "Start Search" button.
Wait just for few minutes it will give you the list of phone/mobile/fax numbers.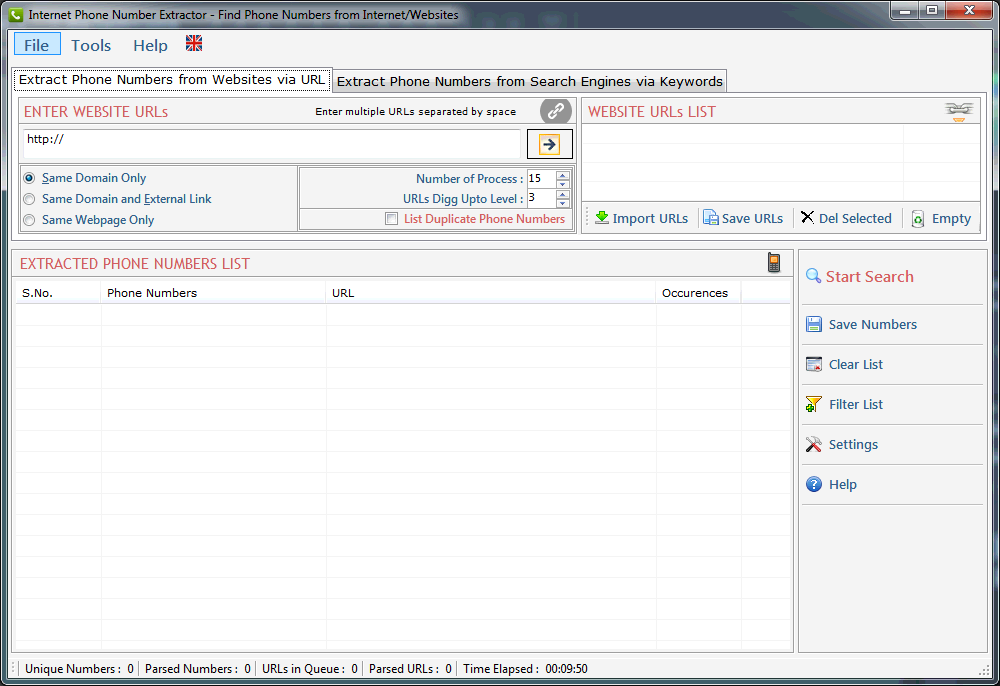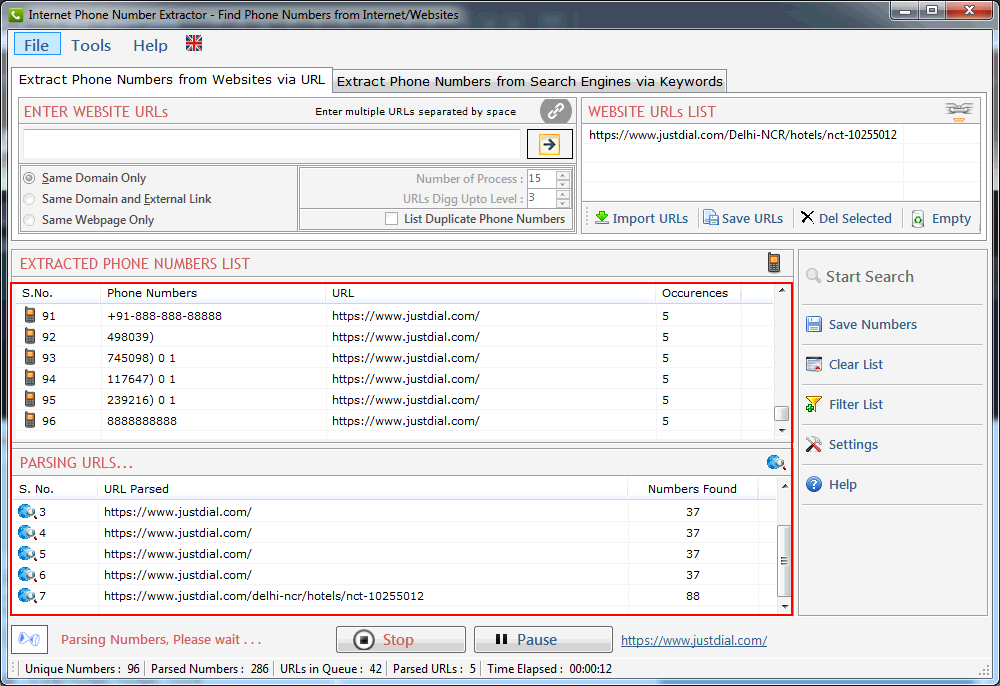 Q.4. How to change Settings?
Ans :
Settings window is use for selection search engines, add restricted keywords exist in webpages and fax/phone tags.
Following steps to be done for changing settings:
Click "setting" button".
A Settings window will be shown as below...
There is an option in general setting "Digg Level Upto" through which user can make a limit of his search to a certain level.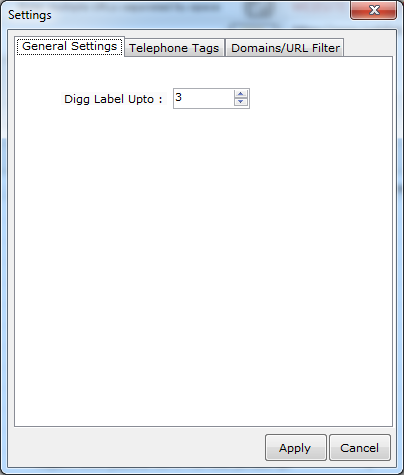 A Settings window will be shown as below for Telephone Tags...
Click "Update Tags" button to update telephone & fax tags.
User can also write tags according to his need if it is not in the list.
Check No Telephone Tag option. It will extract number with Tag or without tag. It gives you the all numeric from the site. This option is very helpful to user.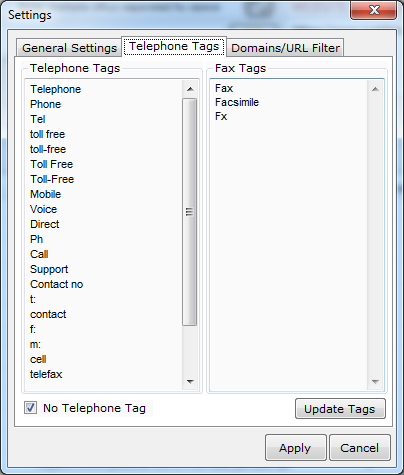 you can add keywords so that this tool can be configured searching phone numbers from internet. URL must contain specified keywords and URL must not contain specified keywords.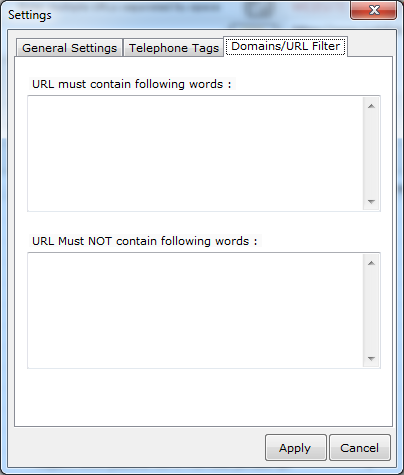 Q.5. How to Filter Number from Extracted List?
Ans :
Click on the Filter List button.
User has the freedom to filter with Keep Numbers or Remove Numbers option.
It will refine the Numbers according to user.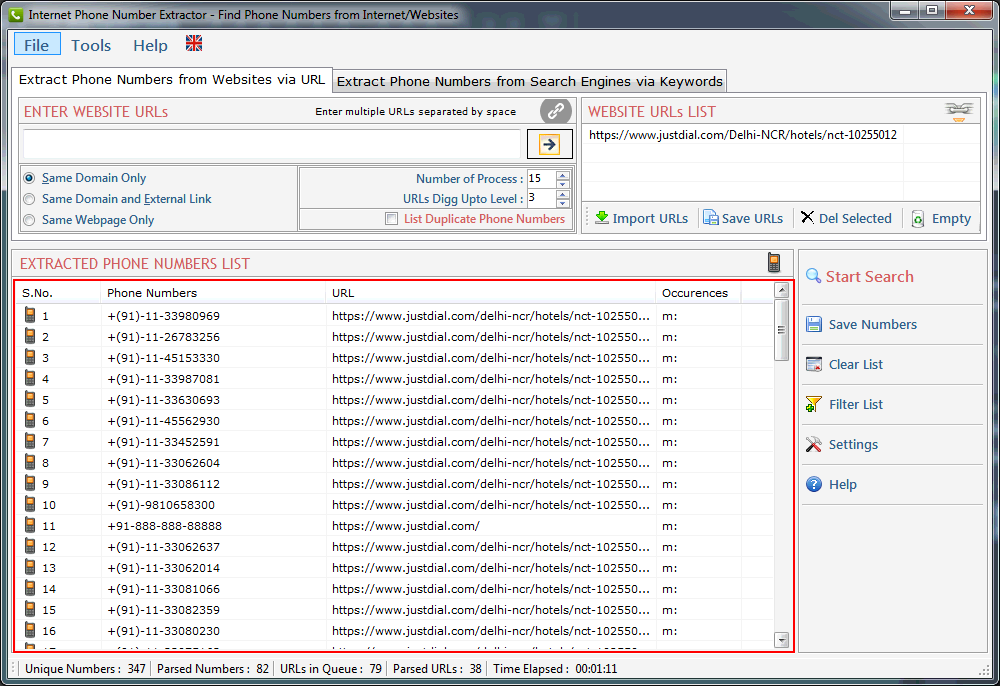 Q.6. How to Save Extracted Phone Numbers?
Ans :
Extracted Phone can only be saved in the registered version of the software. This feature is not available in the trial version.
Extracted can be saved in either .CSV form to use in Excel or in .TXT form to use in Notepad.
Save numbers option gives you chance to save the numbers with or without the URLs.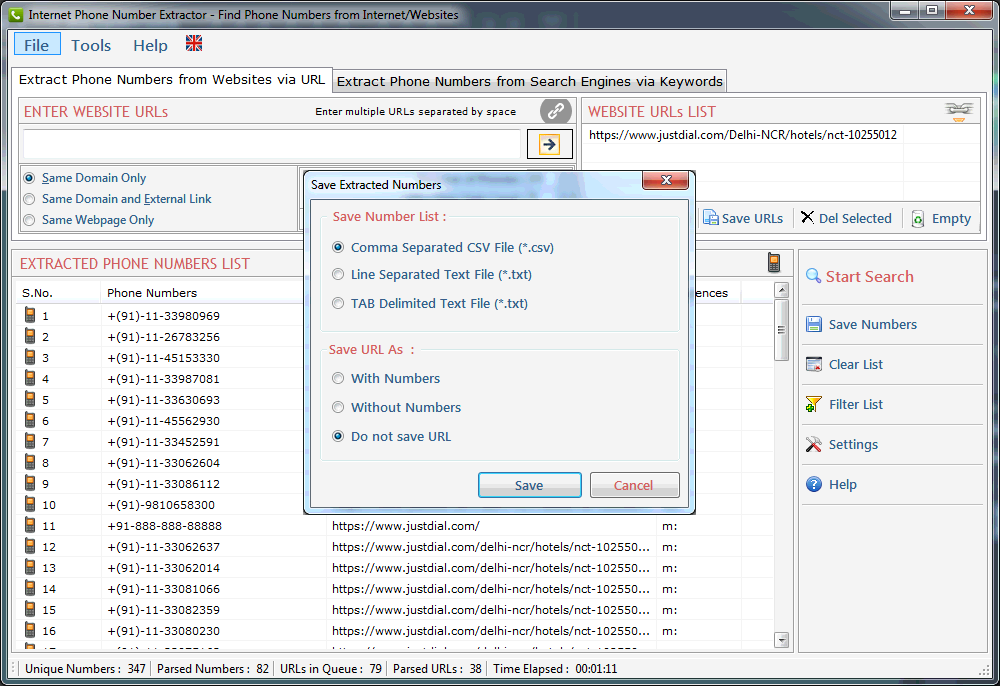 Q.7. How to Deactivate Software to transfer to other PC?
Ans :
Go to Help Menu on left Top.
Step 1 : Deactivate from current PC.
Step 2 : Install the software on new PC and Register it with same Activation Key.