How to extract email id from Microsoft Outlook. ?
Ans :
Q.1. How to Register, Buy and Activate the software?
Ans :
Register: The user can register "Outlook Email Extractor" by clicking on the option "Enter Activation Key" and fill the registration detail with the "Activation Code".
Buy : To get the "Activation Code" user will have to buy "Outlook Email Extractor". For that you can visit our website by choosing option "Buy Activation Key".
Try It : To continue the demo version of "Outlook Email Extractor" click on "Continue Trial Version".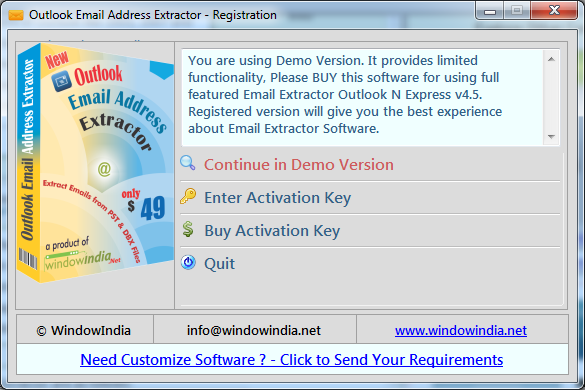 Q.2. How to Select a Profile & Extract Email Addresses From MS Outlook?
Ans :
After you run "Outlook Email Extractor" will ask you to select available profile and fill all available personal folders from selected folders.
Now user can check or uncheck personal folders or sub-folders from which he/she has to extract Email IDs.
After selecting the folders user can click on "Start Extracting Emails".
User can also change the settings by clicking on option "Setting" and can restrict duplicate ids and other things. Setting option is in tool.
The user can also "Stop" the search up to a point.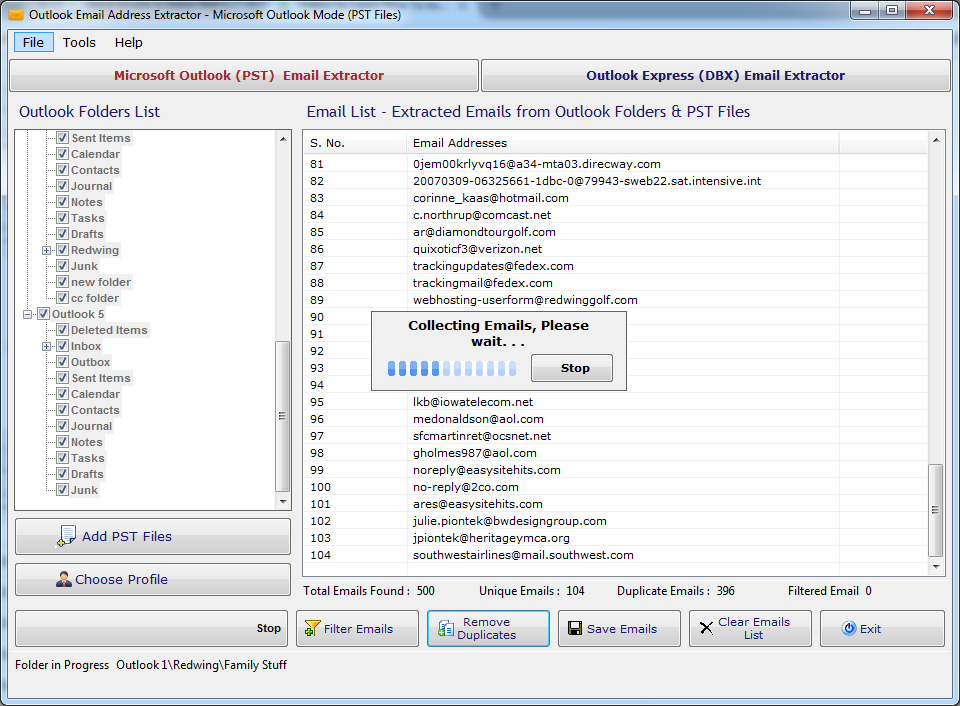 Q.3. How to Select or Change a Profile?
Ans :
User can also select or change the current profile by clicking on the option "Choose Profile".
After that there will be an option of closing all outlook explorer. Click on option Yes.
When you click yes the default profile will be selected automatically.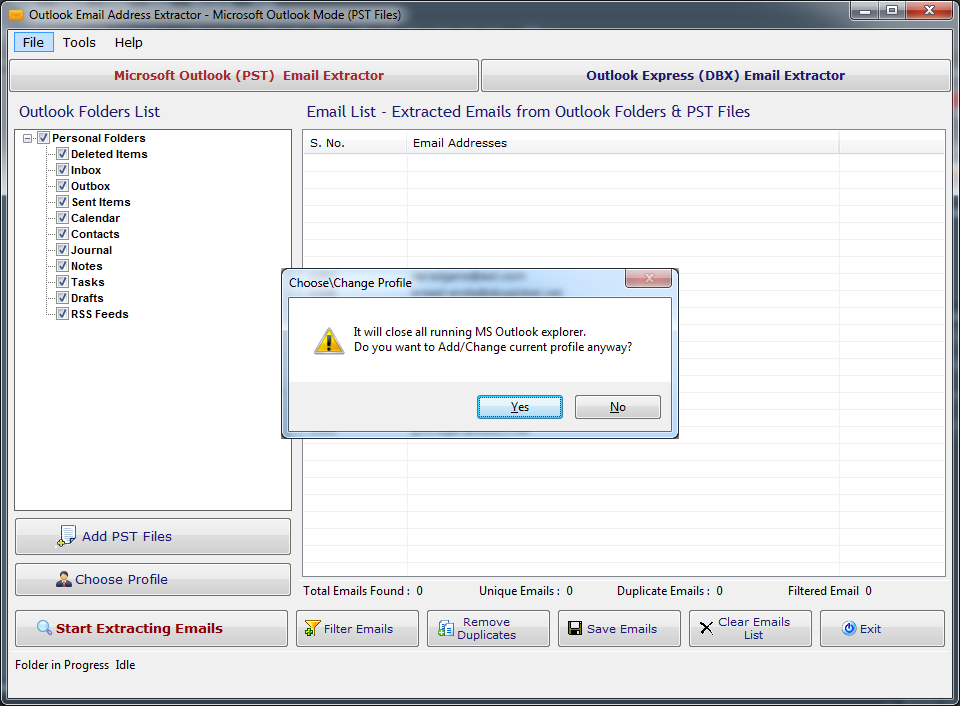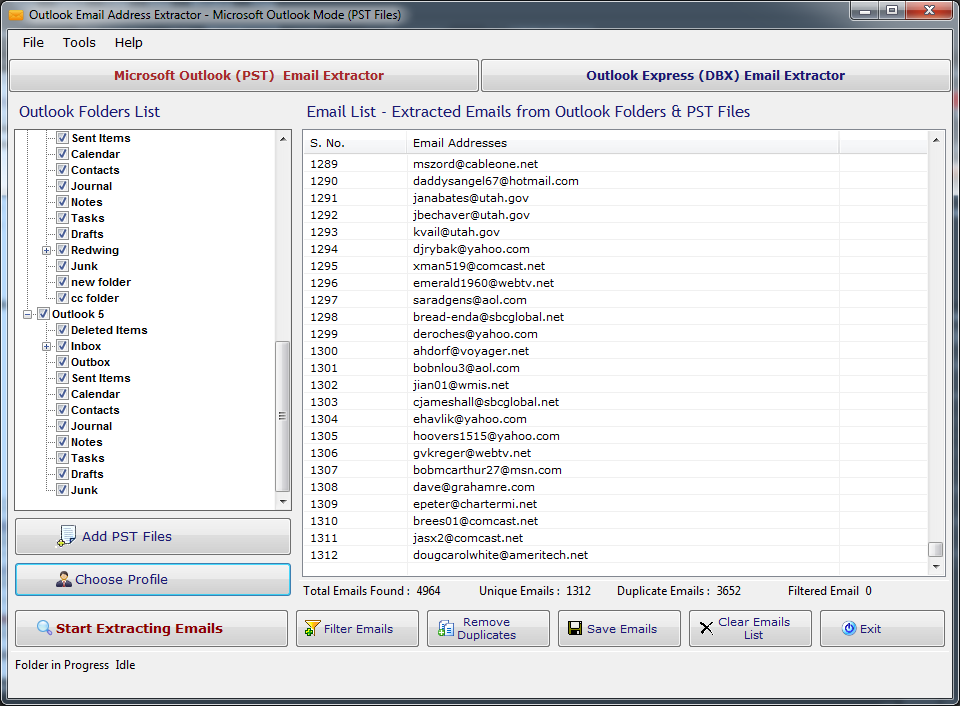 Q.4. How to Select Default Outlook Express (.DBX) Files & Add other .dbx files?
Ans :
To extract email ids from Outlook Express the user will have to select "Outlook Express (.DBX) Email Extractor" in the software.
Then the user has to include .DBX files by clicking on the option "Add .DBX files".
Now you will see all the default .DBX files on your screen.
Then you have to click on "Extract Emails" and it will start extracting email ids.
The user can also stop the processing by clicking on "Stop" option given below.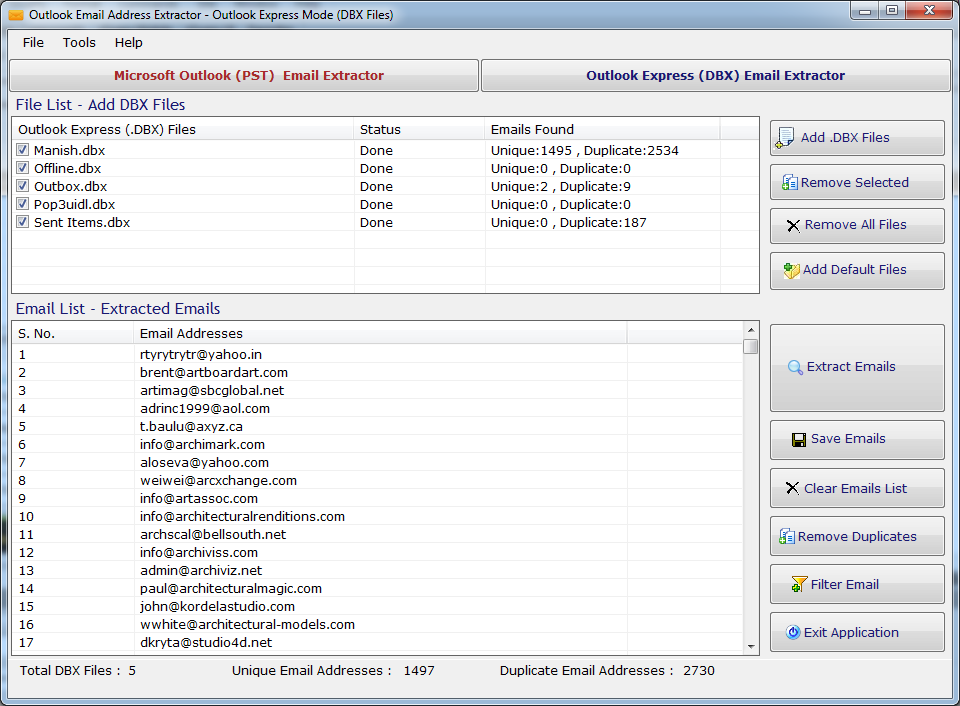 Q.5. How to Filter Extracted Email Addresses?
Ans :
Users can filter the email ids downloaded according to their settings in MS outlook and Outlook express.
You can also change the criteria of extracting email ids by going into settings and making changes in the options given.
The user can make changes and click on the option "Apply" to save the changes.
Now the IDs which you will receive on your screen are filtered.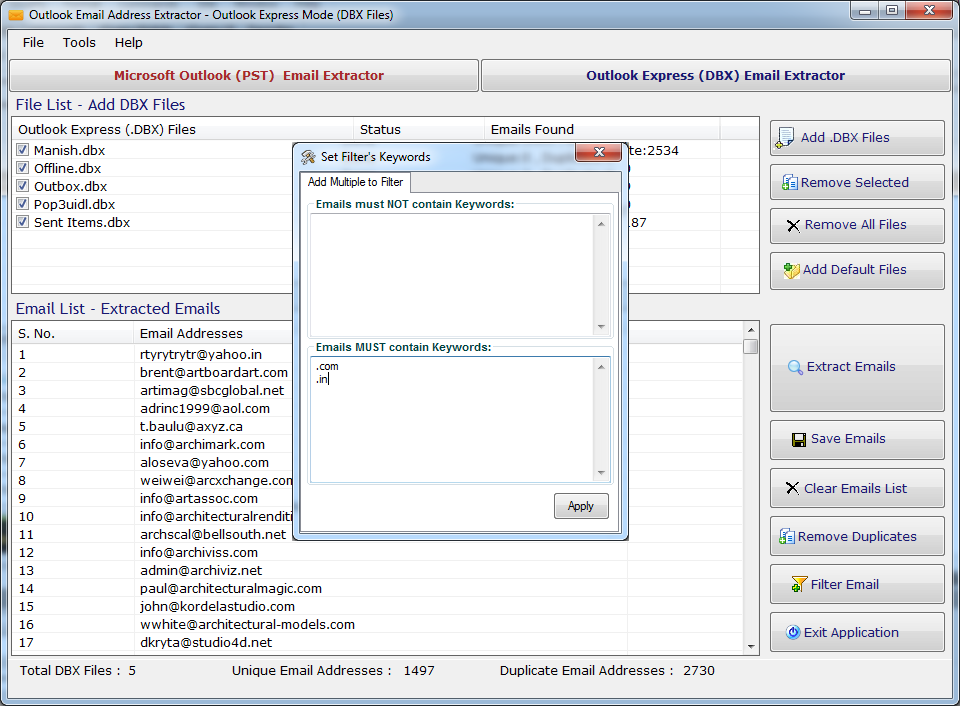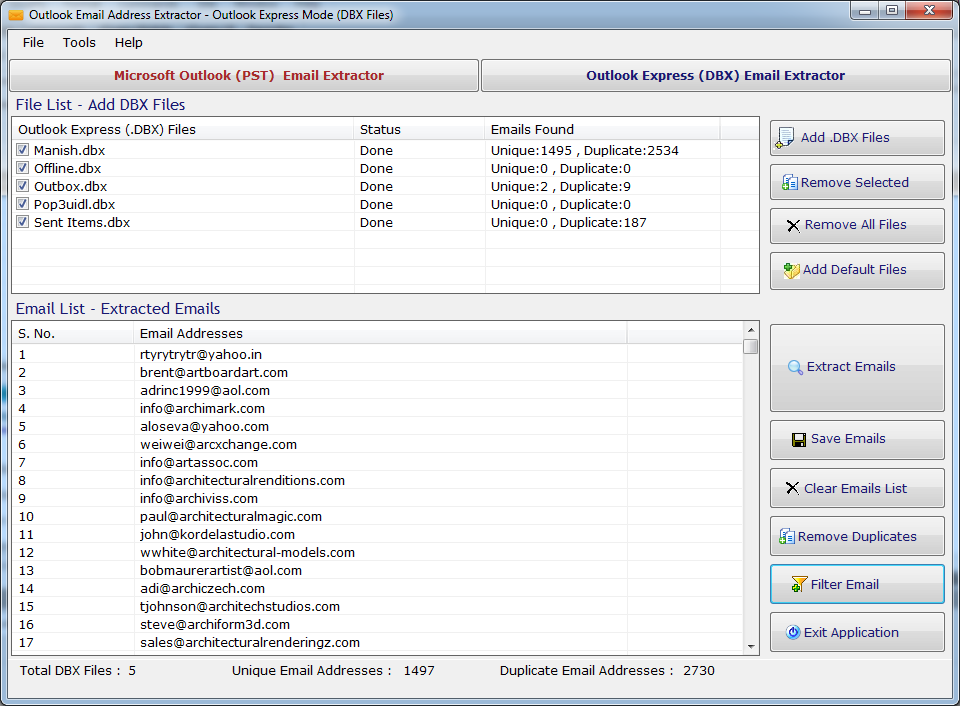 Q.6. Settings Options ?
Ans :
Go to tool menu and click on setting.
Outlook Email Extractor has options to modify the search by making changes in the settings option.
User can check or uncheck the "Search Duplicate Email Addresses" and will get duplicate or original email ids.
User can also prefer email with keywords of your choice. It will make easy to pick up mail ids.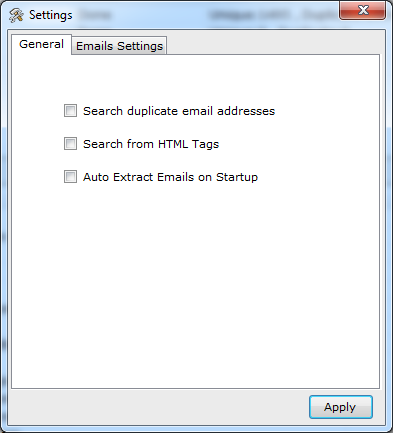 Q.7. How to Save Extracted Email Addresses?
Ans :
User can also choose option to save the data.
When you will click on the option save emails you will get options to save the Email Addresses in different formats.
User can save the data either in .CSV format (Excel) or in .TXT format (Notepad).