Internet Email Address Extractor
Internet Email Address Extractor is an effective email extractor software which is highly capable of searching & extracting email IDs from a list of websites and URLs across the internet. This internet email extractor is one of the most famous software which freely updates search engines online. Owing this function of the web email extractor, the results acquired from search engines teds to be more suitable and significant.
The Web email extractor is software which has made the job of extracting email IDs very easily. It has appeared as one of the fastest & accuratesoftware for extracting large number of email addresses from the webthroughall major search engines such as Google, Ask.com, Yahoo, Bing, and many more.
The Internet Email Address Extractor is an advanced & unique windows basedsoftware that also makes use of filters while mining the email addresses. This features enables the users to get a list of email ids which are relevant as per user's requirements. The unnecessary and invalid emails which are present over the internet are removed and those which are required by the user are extracted. This is another reason for which this software has emerged as a fast & profitable email extractor.
This Internet Email Extractor has a unique feature of restricting URLs from list which are not required to be scanned. This Internet email extractor as emerged as Web email Extractorsearch and extracts the email addresses from the internet network and different websites and saves them .TXT or .CSV based on user's choice.
Email extractor software is considered to be the fastest & accurateextractor of emails which is available in market. The keywords provided by the user are utilized efficiently to search the email IDs over the search engines. The software are extremely useful in getting the facilities without disclosing any personal details.
Key Features
The key features of the Internet Email Address Extractor are as follows:
It extracts the email addresses from the internet in accordance with the keywords provided by the users for the search engines.
As an email extractor it is capable of extracting the email addresses from the internet with the help of various search engines like Google, Yahoo, Bing, Ask.com, etc.
It can also extract email addresses from a wide list of websites and URLs.
The email extractor software is capable of updating the search engines online for free which helps users in getting the best results.
It is an extremely fast email extractor over the internet.
It allows the users to add any configuration for scanning the various URLs so the results can be obtained quickly.
The extracted email addresses can be filtered so that the list obtained is relevant to the search.
The email harvester saves the extracted email addresses in various forms like .CSV and .TXT which opens in MS EXCEL and Notepad respectively.
It can be used as web email spider.
It is also known as online email extractor.
How its's works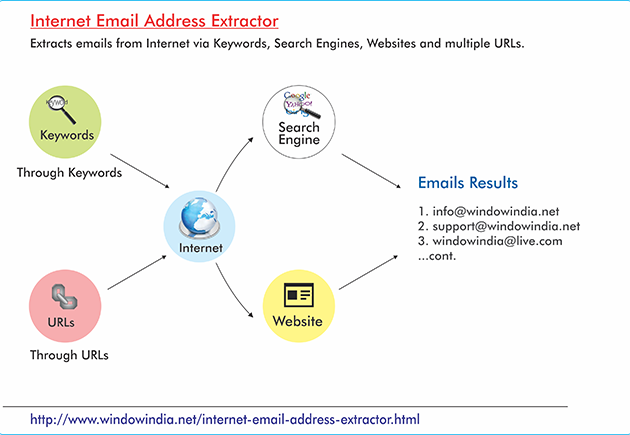 Whats New in this Version
GUI with Multi Language support
Optimized for Windows 10
Stability Issues Bug Fixed
Popular Searches
Email Extractor, Email Extractor Online, Internet Email Address Extractor, Website Email Extractor, Fast Email Extractor, Internet Email Address Extractor, Online Email Extractor, Extract Email Online, Extract Emails From Online, Extract Email From Website, Extract Email Address From Website Online